At Ardent, we believe that engaging with their financial plan from a young age could benefit your clients at every stage of life.
The right plan may help them navigate important milestones in life, such as starting a family, for example. It could also be beneficial for them to begin thinking about retirement as early as possible because they will have more time to build their savings.
Figures from the Times Money Mentor demonstrate how much difference this could make. They report that somebody paying into a pension starting at age 22 would have to contribute £283 a month to accumulate £200,000 by age 66, assuming 5% growth each year.
Yet, if they waited until they were 32, they would have to contribute £402 a month to reach the same target. As such, starting early could make a significant difference to their retirement savings.
The same is often true of investing. If your clients buy into the market when they are young, they may be able to leave their wealth invested for longer. This could mean that they see greater returns.
Ultimately, making sensible decisions with their wealth when they are young could help the next generation improve their quality of life now and in the future. 
Unfortunately, your younger clients may face a whole host of unique challenges that make it more difficult for them to grow their wealth. Fortunately, with the right support, they can meet their long-term financial goals.
Read on to learn why advice is more important than ever for the younger generation.
Young people may have less wealth to invest than previous generations
Investing can be an excellent way to build wealth for the future. Yet, this may be more challenging for the younger generation as they may have less disposable income to invest.
In the last 20 years, house prices have increased dramatically. According to Get Agent, the average house price increased by 44% between the 2008 financial crisis and February 2002. As a result, the next generation likely face much greater housing costs than previous generations. 
Additionally, stagnating wages and high levels of inflation mean that real pay has fallen over the last decade. The following graph demonstrates the difference between wage growth and inflation between 2012 and 2022.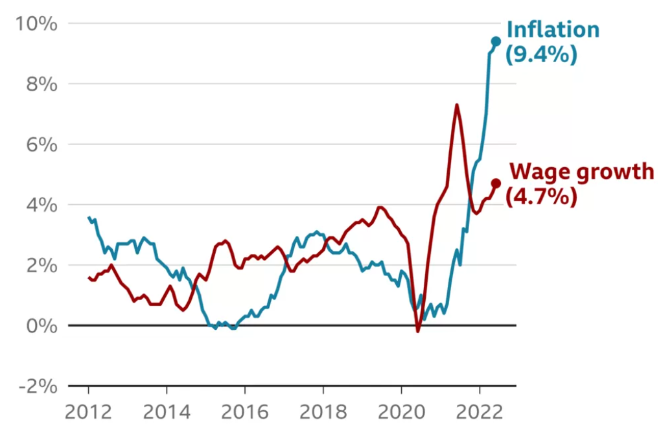 Source: BBC
As you can see, inflation has been rising faster than wages, meaning that your young clients may find their money doesn't go as far as it used to.
This, coupled with increased housing costs, means that many people in the younger generation may be more likely to spend most of their salary on their living expenses. As such, they may not have as much wealth to invest.
Working with a financial planner could benefit your clients in several ways here. Firstly, they may be able to help clients assess their budget and make adjustments to find more disposable income. This could mean that they are able to invest more wealth or increase their pension contributions.
Additionally, a financial planner can work with your clients to determine what level of risk is suitable for their financial goals and help them find effective ways to build their wealth. 
As a result, they may still be able to make the most of their wealth and achieve their ideal lifestyle, despite the increased costs they might face.
3 in 4 young people trust financial advice they find on social media
The younger generation often face a significant gap in their financial education. This can mean that they turn to unreliable sources, such as social media, when making decisions about their wealth.
According to IFA Magazine, 48% of children said they wanted to be taught about financial management at school, but 65% said that they were not learning these core skills. Additionally, 91% of parents thought that financial education was a priority.
As a result, many young adults could struggle with basic financial management, and may not understand more complex concepts such as investing or saving for retirement.
Unfortunately, the next generation often turn to social media to fill these gaps in their knowledge. A report from the Financial Conduct Authority (FCA) found that 64% of 18 to 29-year-olds followed social media influencers who discussed financial issues, and 74% trusted their advice.
In some cases, this can lead to risky behaviour. For example, there has been an increase in the number of young people investing since the pandemic. But the FCA found that 58% of under-40s who invested in high-risk products said they did so because of social media hype.
Much of this advice that young people base their decisions on likely comes from unqualified people and they often encourage investing in risky products such as cryptocurrency. Additionally, social media is increasingly used by scammers to target unwary investors.
A financial planner may help your clients avoid falling victim to scams because they can do due diligence on any investments.
Additionally, a financial planner can help your clients build their knowledge, so they are less reliant on sources such as social media. They can explain various concepts about investing or retirement saving in simple language that your clients can easily understand.
Consequently, your clients may be more likely to make measured decisions about their wealth that help them work towards their long-term goals.
This is backed up by research from Royal London that revealed people who work with a financial planner feel they have a significantly better grasp of financial matters compared to those who don't seek advice.
Only 8% of 23- to 25-year-olds have life insurance
The right protection is a crucial part of your clients' financial plans as it ensures that they and their families receive financial support when life throws the unexpected at them.
If they pass away suddenly, for example, a life insurance payout can help their family clear the balance on their mortgage and cover their living costs. Income protection and critical illness cover may also pay a regular income if they are unable to work due to illness or injury. This means they can continue building savings for retirement and working towards other financial goals.
Unfortunately, according to Legal & General, there is a significant protection gap in the younger generation.
Their report found that only 64% of married millennials with a mortgage and children have life cover. This figure drops significantly among younger people, with only 8% of 23- to 25-year-olds having this vital protection in place.
Many people assume that this is because younger people feel they don't need protection, but that may not be the case. Indeed, the same report from Legal & General found that 83% of millennials said they were worried about dying young, to some degree.
The main reason they reported not having life insurance was that they prioritised other costs. This suggests that, even though they recognise they may need protection, young people don't necessarily understand how crucial a role it plays in their financial plan.
A financial planner may be able to demonstrate the importance of protection using cashflow planning. They could, for instance, model what would happen if your client was unable to work for an extended period and how that could affect their short-term finances as well as their retirement savings.
Your clients may benefit from more explanation of the different types of protection available too. Many people are aware of life insurance but may not know about income protection or critical illness cover, and what the differences are between these options.
As a result, your clients can ensure that they understand their protection needs and they have adequate cover. This is especially important during big milestones such as having children for the first time.
Working with a financial planner can help your younger clients manage their wealth with confidence
Every client is different and they will all benefit from working with a financial planner in their own way. Some may need more help understanding basic concepts while others might want specific guidance about investments or retirement planning, for example.
Yet, regardless of the kind of support they need, a financial planner can help younger clients fill gaps in their knowledge and overcome the unique challenges they face, so they can manage their wealth with confidence.
Get in touch
Your younger clients may face several significant challenges as they plan for the future, but we are here to support them.
They can contact us at hello@ardentuk.com or call 01904 655 330. As an award-winning financial advice company that was a 2022 VouchedFor Top Rated firm, you can be sure that we're a bona fide company providing excellent advice and high-quality service.
Please note
This blog is for general information only and does not constitute advice. The information is aimed at retail clients only.
A pension is a long-term investment not normally accessible until 55 (57 from April 2028). The fund value may fluctuate and can go down, which would have an impact on the level of pension benefits available. Past performance is not a reliable indicator of future results. 
The tax implications of pension withdrawals will be based on your individual circumstances. Thresholds, percentage rates and tax legislation may change in subsequent Finance Acts.  
The value of your investments (and any income from them) can go down as well as up and you may not get back the full amount you invested. Past performance is not a reliable indicator of future performance. Investments should be considered over the longer term and should fit in with your overall attitude to risk and financial circumstances.
Note that protection plans typically have no cash in value at any time and cover will cease at the end of the term. If premiums stop, then cover will lapse. Cover is subject to terms and conditions and may have exclusions. Definitions of illnesses vary from product provider and will be explained within the policy documentation.